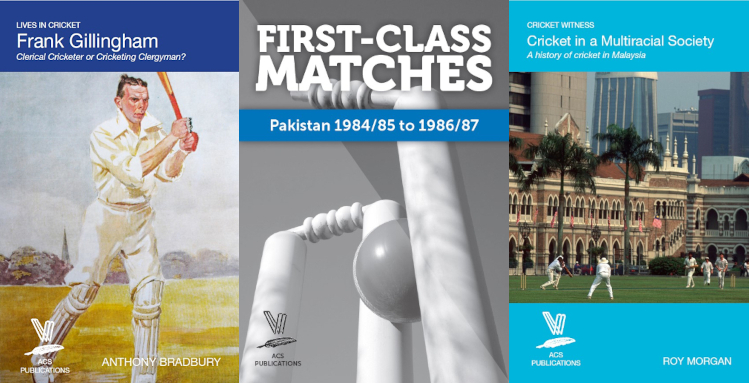 Welcome to the ACS's online shop.
To view our publications, select a category from the white dropdown box in the sidebar on the left of this page (if you're viewing this on a phone, it may be in the dropdown menu at the top).
Our latest publications are First-Class Matches: Pakistan 1984/85 to 1986/87 and Cricket in a Multiracial Society: A history of cricket in Malaysia. Frank Gillingham: Clerical Cricketer or Cricketing Clergyman? is now sold out.
First-Class Matches: Pakistan 1984/85 to 1986/87 is available in a package of three books spanning 1975/76 to 1986-87, or along with the 1975/76 to 1979/80 volume, or along with 1980/81 to 1983/84.
All books published in the last year which remain in stock appear under Latest Publications. These include the highly praised Bill Bestwick: Rough Diamond, the story of the Derbyshire coal miner acquitted of manslaughter in 1907; 14 years later, aged 46, he claimed ten wickets in an innings, and he remains the oldest player to achieve the feat. Fly at a higher game: The Story of TAL Whittington and the elevation of Glamorgan CCC into the County Championship, also available in a special Glamorgan Anniversary Package with The Daffodil Blooms, tells the story of Glamorgan's first Championship title in 1948. The ACS International Cricket Year Book 2021 is now in stock.
If you have a member's coupon (voucher), click on the 'Have a coupon?' link on the Checkout page to enter the code. Members receive the annual code in their November mailing.
Some of our older publications are now being made available via Google Play.